Replacing Reality / Humans + Tech - #28
Socialising, working, playing, entertaining, and making a living in virtual worlds.
Hi :)
As lockdowns continue worldwide, and social distancing is the norm, humans are finding alternatives to socialize, work, learn, play, and entertain themselves. A lot of this is happening in online virtual worlds.
These online virtual worlds are populated by many users who create a personal avatar to explore the virtual world, participate in various activities and work, socialize, and communicate with others.
The first multiuser virtual world called MUD was built in 1978 by the University of Essex on ARPAnet, a precursor to the internet. It was a text-based adventure game.
The current generation 3D virtual worlds built on the modern internet, like SecondLife, Minecraft, Roblox, and World of Warcraft have been around for close to two decades. The newest worlds are Animal Crossing, Fortnite, and VirBELA.
It's not just for fun and games.
In 2018, Aaron Frank wrote an article in Singularity Hub about eXp Realty, a $1 Billion publicly-traded real estate brokerage that was operating entirely in virtual reality, since 2016, in a world build by VirBELA [Singularity Hub]. They help people buy and sell physical homes in the real world, but their corporate offices are in a virtual world. Team meetings, training seminars, onboarding sessions, are all inside a virtual reality campus. Late in 2018, eXp Realty acquired VirBELA.
Companies like Coca Cola, Apple, and others are actively marketing their products in these online worlds and many people are generating real-world income by selling products, virtual goods, and virtual property in these online worlds.
The COVID-19 pandemic has just accelerated their adoption.
I came across some of the articles linked below from yesterday's Morning Brew newsletter [Morning Brew].
Kids are enjoying virtual birthday parties, playdates, and classes on Roblox
Roblox has seen a huge increase in signups, meeting their 2021 goals in recent weeks from the influx of kids in lockdown. Kids between the ages of 9 to 16 are enjoying virtual birthday parties, playdates, and even learning how to code in Roblox [Bloomberg].
Roblox, which is free to use, generates revenue by selling a virtual currency called Robux, which players use to buy virtual goods like clothing for their avatars or magic balloons. More than 2 million people develop games on Roblox. They get a 50% cut of any related purchases after Roblox pays certain processing fees.
Music concerts attract huge crowds in virtual worlds
On Apr 23, 12 million players logged into Fortnite to watch a Travis Scott concert [BBC]. A skyscraper-sized version of Scott performed his songs while teleporting across the virtual landscape. Scott also revealed a new song.
Early in February, electronic music producer Marshmello held a live concert on Fortnite. Nick Statt, reporting for The Verge, wrote:
It truly felt like a glimpse into the future of interactive entertainment, where the worlds of gaming, music, and celebrity combined to create a virtual experience we've never quite seen before.


Wedding bells are ringing
Madeline met her husband in World of Warcraft, and they fell in love after they met in real life. They had planned to get married last month, but after the coronavirus disrupted their wedding, they decided to have a virtual wedding in World of Warcraft [Polygon].
They met with friends and guildies in a Tolkien-esque stone and metal bar that is staffed by dwarves, then collectively took the tram down to the white spires of Stormwind. Here, everyone changed out of plate armor and enchanted leather and into gowns and tuxedos. They all reconvened on the steps of Stormwind Chapel — a building that, in the lore of World of Warcraft, holds all of the priests and paladins. The locale often draws roleplayers due to its photogenic nature; it's much like a real-life European church. For Madeline, it served as the perfect place for a ceremony.
Madeline even convinced her sister to create an avatar in World of Warcraft to witness her marriage. They now play in the game with each other regularly.
Sharmin Asha and Nazmul Ahmed had a virtual beachside wedding with friends on Animal Crossing after they had to cancel their wedding as well [Washington Post].
Recreating the real world in virtual worlds
After the University of Pennsylvania's semester was cut short, the students rebuilt their campus in Minecraft and held The Penn Relays—the largest and oldest track and field event in the US in Minecraft [Business Insider]. The Penn Relays have been held annually since 1895 and Upenn's students made sure that the current pandemic didn't stop that tradition.
MIT students also recreated their campus in Minecraft in meticulous detail after social distancing measures started coming into place [Business Insider]. Students were brainstorming how to socialize after large gatherings were banned and came up with the idea of recreating the MIT campus in Minecraft. Shayna Ahteck, one of the students involved in this is also contemplating giving prospective students a virtual tour of the campus in Minecraft.


Shopping with augmented reality
Platforms like fashion try-on app Forma that let people engage with clothes digitally are doubling their users every week [Vogue Business]. Forma allows you to upload a picture of yourself and its computer vision algorithms separate clothing and the human body in a 3D space, allowing people to swap out clothing onto the same body. The animation below from Forma shows the concept.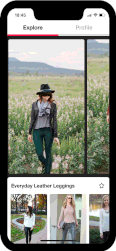 IKEA Place is an augmented reality app that allows you to place virtual true-to-scale IKEA furniture in your home to see how it will look before you buy it [Gizmodo].
The future of virtual worlds
Online worlds are currently 3D virtual worlds that we experience through a 2D screen. Augmented Reality (AR), where we bring virtual objects into the real world, is the technology that is coming into the mainstream at present but it is also consumed through a 2D screen. Current Virtual Reality (VR) is still in its infancy. The slightly distant future will bring us virtual reality technology that we can fully immerse ourselves into and experience these 3D worlds in 3D without the awareness of being tethered to the technology that allows us to experience it.
Several sci-fi movies have explored this concept: Total Recall, The Matrix, Ready Player One, Avatar, and Tron, among others. In many of these films, the virtual worlds are used as an escape from the realities that these characters live in.
Food for thought
The word, avatar, which is used to describe alter egos in virtual worlds, comes from Sanskrit in which it means "descent of a deity to Earth in an incarnate or tangible form."
Which made me wonder—could our reality actually be a virtual world in which we are so deeply immersed, that we've forgotten that? Are we already someone else's avatars experiencing Earth on their behalf? Many eastern philosophies such as Hinduism and Buddhism tell us that our reality is an illusion and that we are only actors in a play. Some scientists also believe we may be living in a simulation [Scientific American].
If we are in a simulation, isn't it possible that the coronavirus and other diseases are similar to a computer virus that could disrupt the online virtual worlds that we've created? Let's hope the creators of our simulation have good antivirus software :)
---
Quote of the week
The problem with VR is you don't know who you are.

—Reggie Watts, "Reggie Watts Is the Pioneer Virtual Reality Needs", Inverse, September 19, 2016
I wish you a brilliant day ahead!
Neeraj