35 innovators under 35 using technology to help people / Humans + Tech - #35
+ Wrongfully accused by an algorithm + Apple makes amends + Has the pandemic pushed us into a post-human future? + 👁👄👁 It is what it is
Hi,
Here are some great topics and articles I came across this week.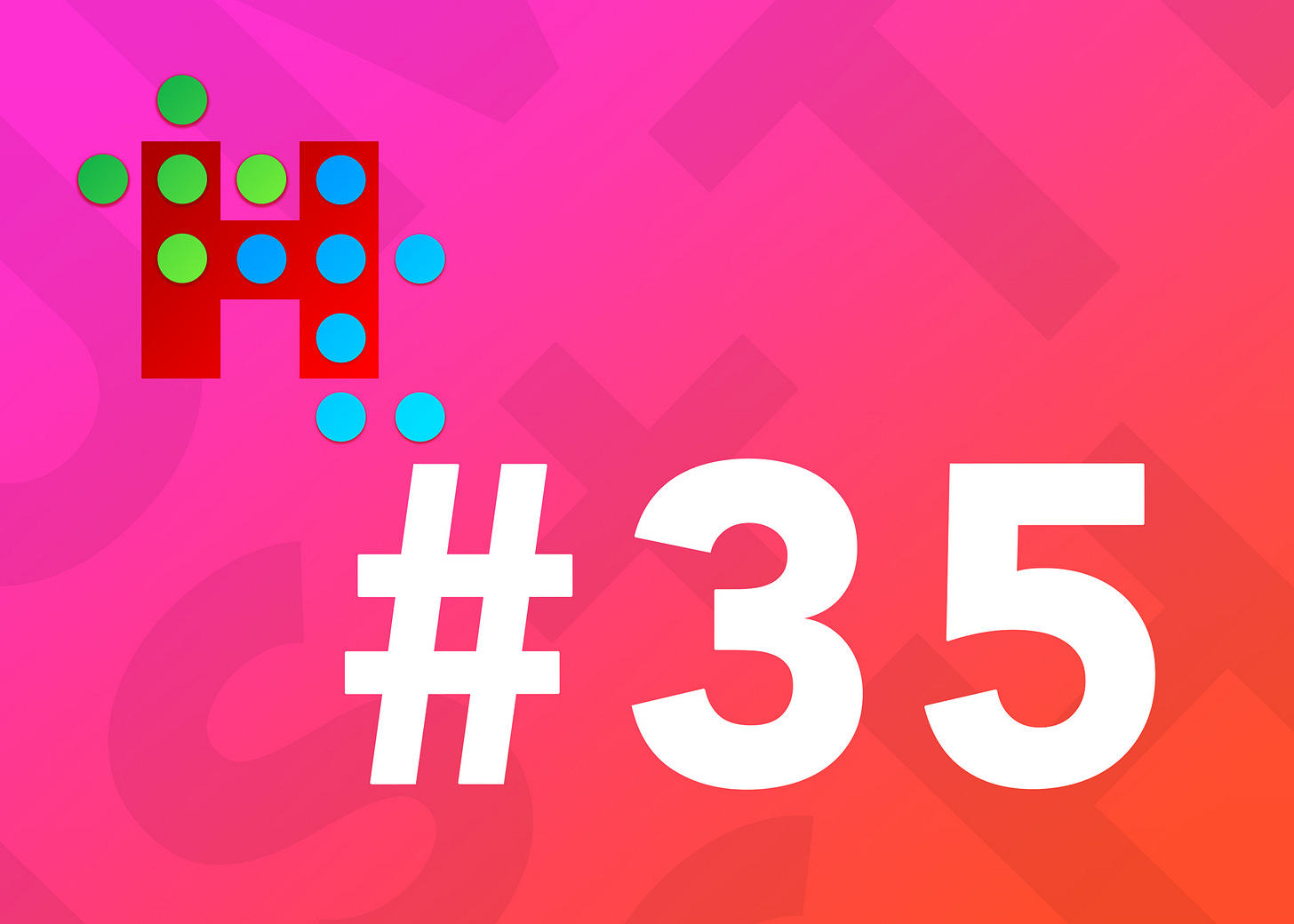 35 innovators under 35 using technology to help people
MIT Technology Review has put together their 2020 list of 35 innovators under 35 that are seeking ways to use technology to help people. From trying to solve the climate crisis to developing solutions to fight the pandemic to fighting social injustices, these 35 are pioneering effective uses of technology. You can read a summary of what each of them is working on and dive further into their research and contributions [MIT Technology Review]. It's really great to see these young minds working to make our world a better place through technology.
😊 It's a happy coincidence that MIT Technology Review posted their 35 innovators under 35 article this week just before the 35th issue of this newsletter.
---
Wrongfully accused by an algorithm
In Humans + Tech - #33 I talked about facial recognition technology and how some of the big tech companies like Amazon, IBM, and Microsoft have stopped or put a pause on the use of their facial recognition technologies by law enforcement. An article this week in The New York Times showed why that is necessary.
Kashmir Hill tells the story of Robert Julian-Borchak Williams [The New York Times], an African American gentleman, who was wrongfully arrested in January in Detroit for a crime he did not commit, based on a wrong facial recognition match. A mixture of bad police work, an assumption that the technology is always right, and mistaken witness testimony led to William's arrest.
Williams was falsely arrested on his front lawn in front of his wife, two children, and neighbours. He was held by police for 30 hours, and even two weeks later, when the judge dismissed his case, it was without prejudice meaning he could possibly be charged again. The A.C.L.U. of Michigan is fighting for the absolute dismissal of his case and in response to the article, the prosecutor's office said that Williams could have the case and his fingerprint data expunged.
Explaining what Williams has been through, Kashmir Hill writes:
Mr. Williams and his wife have not talked to their neighbors about what happened. They wonder whether they need to put their daughters into therapy. Mr. Williams's boss advised him not to tell anyone at work.

"My mother doesn't know about it. It's not something I'm proud of," Mr. Williams said. "It's humiliating."
In more positive news for Americans, Boston's city council passed a ban on the city's use of facial recognition technology [ACLU]. A new federal bill is also in the senate that aims to restrict police use of facial recognition [NBC News].
---
Apple makes amends
In last week's issue of Humans + Tech, I talked about Apple's dispute with HEY. Apple made some changes that sound very promising and even approved HEY's app after they built some additional features that better met Apple's App Store rules without having to implement In-App Payments and fork over 30% of their earnings to Apple.
Apple has announced that they will update their App Store policies to allow developers to appeal a specific violation of an App Store guideline and that there will also be a separate process for challenging the guideline itself [The Verge]. Additionally, while an app is held up in review over guideline violations, bug fix updates will still be permitted. It's yet to be seen how this will work in reality, but it's commendable for a company of Apple's size to address issues like this with proposed solutions so quickly. This along with all the privacy features they announced that are coming to macOS and iOS [The Hacker News] at the WWDC conference last week may just win them back the soft spot I had for them.
Already, people testing the new iOS 14 beta, found that TikTok was constantly reading user's clipboards [9to5Mac].
According to several reports shared on the web after the release of iOS 14 beta, TikTok is one of the apps that constantly reads user clipboards. The new privacy banner keeps showing up on the screen all the time when the app is running, and this has not only annoyed beta users but also made them worried about TikTok copying personal data without permission.
---
Has the pandemic pushed us into a post-human future?
Om Malik has written a great essay about how the pandemic has accelerated our transition into a transaction based existence in which we are sacrificing humanness and connection [OM]. It's a very thought-provoking post.
Back when taxicabs were normal, I was familiar with many of the dispatchers and taxicab drivers who would carry me around San Francisco. Some of them told me their stories. Some would come back to pick me up after my visit to the hospital — even though they didn't have to. They knew my name and I knew theirs. When Uber came around and cabs went into a decline, the human interactions I had during my rides died with them. Uber was a data-enabled, network-based convenience. There was very little room for getting to know a person. Everything became a transaction.
Even here in Nairobi, before Uber, Bolt, and Little Cab started operations, many had a go-to cab driver that they used to call. That has reduced drastically with the ease of use and lower fares offered by these ride hailer apps. And unfortunately, that human connection has been lost here too as Om experiences in San Francisco.
---
👁👄👁 It is what it is
If you're active on Twitter, you may have noticed some speculation on this particular combination of emojis recently.
There's a very interesting story behind this explained very well by Josh Constine.
That moment you're left speechless, confused, unsettled. Unsure what you just saw, unsure what to do next. But there's no denying what happened. It is what it is.

The eye mouth eye emoji set is a modern ¯\_(ツ)_/¯ for more trying times, devoid of the same gleeful acquiescence. 😑 is too resigned and sour. 👁👄👁 means you feel helpless amidst the chaotic realities unfolding around us, but there is no escape. When someone or something is just too much, and you're just left thinking "well, this is awkward".
A secretive group registered the website 👁👄👁.fm, posted a cryptic message pretending to be an exclusive app, and caused loads of speculation about what it was. On Friday, they revealed their true story [👁👄👁.fm]. Josh explains:
A joke amongst a diverse group of friends became an accidental cultural moment for 20K people, an examination of exclusivity culture, and raised $110K for these racial justice philanthropies. They earned the internet's attention, and harnessed it for good. I'd call that a success, so hire them and donate.
It's a great story of how a group of people capitalized on social media hype and turned it into something to benefit and drive action towards causes that are doing important work to bring about racial justice. Bravo.
We're a diverse, ragtag group of young technologists tired of the status quo tech industry, and thought that we could make the industry think a bit more about its actions.
---
Quote of the week
The human spirit must prevail over technology.

—Albert Einstein
I wish you a brilliant day ahead :)
Neeraj